Radiator Covers offer an elegant finishing touch to an older home. This one seems to be waiting for it's canine owner to take a nap!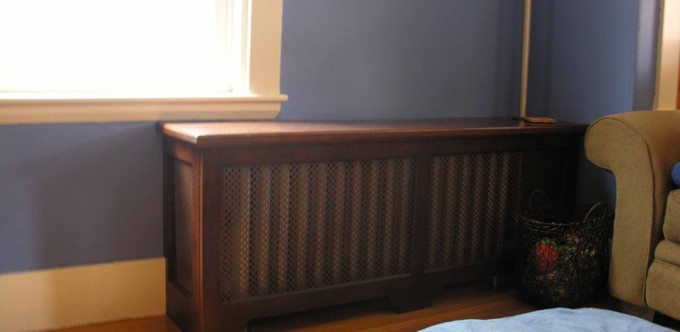 Six things to think about when ordering radiator covers:
A wooden radiator cover will not catch fire. Hot water radiators never get above 160 degrees Fahrenheit, and steam only 20 degrees hotter, neither temperature is high enough to kindle wood,  for that you would need at least 350 degrees.
It's not the grill that lets the heat get out, it's convection. Heat rises. Cooler air flows in under the Radiator, is heated by the fins or tubes, and then rises.    That's why we include a slot at the bottom and the top to promote this transformation of cool air to warm.
You don't have to put up with ugly baseboard heat. When I renovated my house, I hated the cheap looking sheetmetal covers supplied with baseboard, so I built my own. They look a lot nicer than the metal ones. You can see them on the website radiator cover page.
Make sure that the valves and shutoff are accessible without removing the whole cover.
Don't forget to insulate! Insulation is the cheapest way to save on energy costs. We always put a piece of ½" or 1″ thick foil faced rigid insulation behind the  radiator.  This keeps the heat indoors where it belongs, and the foil helps reflect heat out into the room.
Metal covers are cheap, but they get just as hot as radiators, so if you are worried about toddlers stumbling  into them….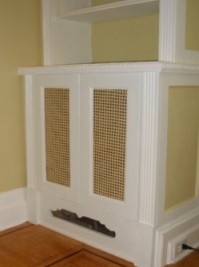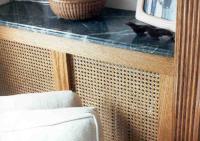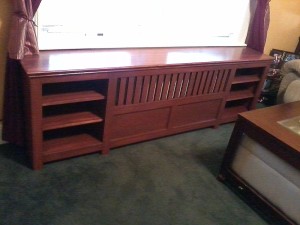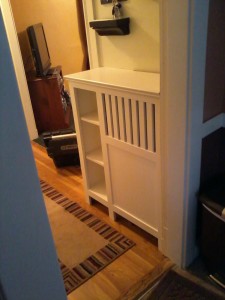 BUT IF WICKER'S NOT YOUR THING, SLATS ARE GOOD AND YOU CAN PUT SHELVES IN THEM TOO.